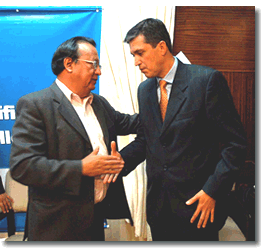 Solidarity with disaster victims in Bolivia
(La Paz, February 23, 2007).- The Andean Development Corporation (CAF) donated US$50,000, in addition to the US$15 million loan already approved, to support the response of the administration of President Evo Morales to the needs of approximately 70,000 families victims of the natural disasters that are affecting eight of Bolivia's nine departments.
CAF approved a US$50,000 donation for the Bolivian Vice Ministry of Defense and Cooperation for Integrated Development to be used for humanitarian aid in response to the national emergency caused by the El Niño 2006-2007 phenomenon (Resolution P.E. 5556/07 of February 22, 2007).
The aid was provided in the framework of Supreme Decree No. 29035 of February 21, which authorizes departmental prefects to immediately channel state resources to execute emergency programs and projects.