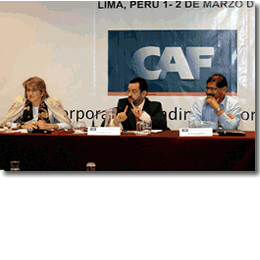 Restructuring and opportunities in the microfinance industry
March 01, 2007
The II CAF Microfinance Forum Workshop "Challenges and opportunities in the microfinance industry" with over 80 participants from 14 Latin American countries will be held in Lima, Peru, on March 1 and 2.
The purpose of this second event is to exchange proposals and ideas with participating general managers and presidents from microfinance institutions - clients of CAF - which will be used to design the Corporation's strategies for development and innovation as effective support for the microenterprise sector in the region.
(Lima, March 1, 2007).- Creating a space for reflection on the key aspects that have made microfinance a revolutionary and effective tool for combating poverty, the Andean Development Corporation (CAF) has invited its clients from the microfinance sector to the II CAF Microfinance Forum Restructuring and opportunities in the microfinance industry. The event to be held today and tomorrow is part of the integrated agenda of development with equity which CAF is promoting in the region.
For two days, the participating group of directors and executives from the microfinance world of the region will meet in the Peruvian capital to debate the current state of microfinance, the main challenges facing the industry and where it is headed.
The discussion panels will debate the new paradigms of the microfinance industry; the main limitations and opportunities in relation to the need for the institutions to improve their efficiency and competitiveness, as well as the importance of forming strategic alliances to reduce costs and create new conditions focused on new products and services that benefit Latin American microenterprises.
Distinguished experts from the microfinance sector who will participate in the forum include Luis Noel Alfaro of INCAE, Reynaldo Marconi of FOROLACFR, Robert Christen of the Boulder Institute, and María del Carmen Díaz Amador of the Mexican Secretariat of Economy, among others.
Support for micro-, small- and medium-sized enterprises in the region, as an important pillar for achieving sustainable development in its shareholder countries, is one of CAF's main activities. With this event the multilateral financial organization aims to strengthen the financial system that serves microenterprises by offering support to its financial institutions. The I CAF Microfinance Forum was held in Caracas in February 2005.