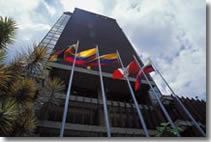 CAF improves its international rating to A+
April 23, 2007
For the third year running, the Corporation receives an upgrade
(Caracas, April 23, 2007)
.- The international rating agency Standard & Poor's recognized today, once again, the financial strength and stability of the Andean Development Corporation (CAF), raising its long-term issuer credit and senior unsecured debt ratings from "A" to "A+".
In its announcement, Standard & Poor's stated that the decision to upgrade to A+ is due to an improved quality of the loan portfolio, a sustained increase in capitalization and profitability, and the expectations of an increase in the shareholder base, which should result in further diversification of the loan portfolio. CAF president & CEO Enrique García said that the decision – announced in New York - "confirms the institution as the best-rated frequent issuer in Latin America, thanks to the continuous support from its shareholder countries, reflected by their ongoing capital contributions and timely payment of all commitments." He added, "The upgrade recognizes the constant strengthening of the organization's financial structure and reflects its new Latin American dimension."
CAF enjoys four ratings granted by the most prestigious international agencies: Fitch Ratings (A+), Japan Credit Rating Agency (AA-), Moody's Investor Service (A1), and Standard & Poor's (A+).
The Corporation's financial strategy is based on diversification and expansion of sources of funds and reduction of costs in the international financial markets, with 56 bond issues to date under highly competitive conditions. The purpose of raising these funds is to finance important projects in line with the multilateral organization's mission to promote the sustainable development and regional integration of its member countries in both public and private sectors.