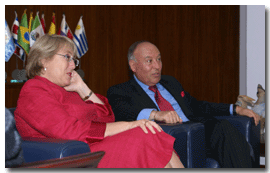 Chilean President Michelle Bachelet visits CAF
April 18, 2007
A memorandum of understanding was signed to strengthen cooperation between Chile and CAF in favor of the integration of the countries of Latin America and the Caribbean with the Asia-Pacific region
The Chilean delegation and CAF officials held a working meeting with a view to forging closer relations.
(Caracas, April 18, 2007). - Chilean President Michelle Bachelet made an official visit to the headquarters of the Andean Development Corporation (CAF) in Caracas to move forward with the consolidation and strengthening of the regional cooperation and integration process. During the visit a memorandum of understanding was signed by Chilean Foreign Minister Alejandro Foxley and CAF President & CEO Enrique García. The memorandum aims to forge closer links and expand existing relations between Chile and the Corporation, as well as strengthening economic links between the countries of Latin America and the Caribbean with the Asia-Pacific region.
During the signing, García said, "this visit confirms the willingness and disposition of both parties to promote and strengthen regional integration and sustainable social development in an effort to improve the quality of life of the people of the continent." After the meeting he said that he assigned great importance to strengthening CAF's relations with Chile "as a country that has historically played a key role in achieving the objective of balanced and harmonious development in the countries of the region in pursuit of economic growth with equity, which is in line with the Corporation's mission."
President Bachelet, who was witness of honor at the signing, was accompanied - in addition to Foreign Minister Alejandro Foxley - by Housing and Urban Planning Minister Patricia Pobrete; Minister of the National Women's Service Laura Albornoz, and parliamentarians and business leaders.
The Chilean delegation and the CAF work team explored aspects related to increased participation by Chile in the programs and projects promoted by the institution, as well as topics of mutual interest for strengthening economic relations between Latin American countries and the Asia-Pacific region, through various schemes including cooperation funds which will be jointly administered by Chile and the Corporation.