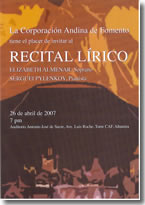 April 27, 2007
CAF invites the public to the recital to be held tomorrow, Thursday April 26 at 7:00 pm in its Auditorium. The invited artists are soprano Elizabeth Almenar and pianist Serguey Pylenkov.
(Caracas, April 25, 2007).- As a reflection of its efforts in favor of the human development agenda based on valorization of culture, the Andean Development Corporation (CAF) invites the public to a lyric recital by soprano Elizabeth Almenar and pianist Serguey Pylenkov. The event will be held this Thursday April 26 at 7 pm in the Antonio José de Sucre Auditorium in Torre CAF, Avenida Luis Roche, Altamira.
Almenar and Pylenkov will perform the works of Charles Gounod, Giacomo Puccini, Francesco Ciléa, Giuseppe Verdi, Ernesto De Curtis, Ernesto Lecuona, María Greever, ending with the beautiful work Alma Llanera of Pedro Elías Gutiérrez and Bolívar Coronado.
Venezuelan soprano Elizabeth Almenar began her music training in the José Ángel Advanced Music School of Caracas, where her teacher was Alfredo Höllander. She continued her training in the José Lorenzo Llamozas School of Music and in the Opera Training Center of the Teresa Carreño Theater, with Lucy Ferrero and Venezuelan tenor José Antonio García. Her debut was with the tenor Alfredo Kraus. Throughout her career she has performed in the opera seasons of the Teresa Carreño Theater, Alfredo Sadel National Opera Company and the Oriente Opera Foundation among others. She completed her vocal and repertoire improvement with teachers Giulieta Simionato, Rina MaJatrasi, and Sara Sforni Corti in Milan, Italy.
The pianist Serguei Pylenkov began his music studies at the age of five in the Sanofov music school. From childhood he participated and received prizes in piano competitions in the former Soviet Union. From 1982 he continued his technical and improvement studies in Moscow, under the teachers Dieva and Alezandrov. In 1989 he entered the Tchaikovsky Music Conservatory. That same year he represented his country at the Budapest Art Forum International Festival in Hungary. He has been member of the jury of the Siberian National Competition and the Sanosov competition on several occasions. In 1992, he successfully concluded his studies in the Russian Federation Higher Music Academy. He currently resides in Venezuela as special guest of the Simon Bolivar Music Conservatory, where he is principle professor of piano, teacher of repertoire and accompanying teacher.