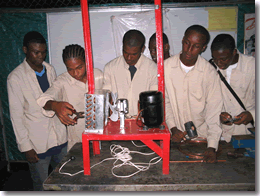 Opportunities for Human Training and Labor Integration for the Young People of Buenaventura
April 17, 2007
CAF approved funds for a project for the labor and social integration of young people in risk situations in Buenaventura, Colombia.
(Caracas, April 17, 2007).- The Andean Development Corporation (CAF) approved US$370,000 to offer opportunities for technical training for 600 marginal youths in Buenaventura with the backing of the National Training Service (SENA).
The non-reimbursable funds granted by CAF will strengthen the integrated program for training young people aged 16 to 25 in trades in Buenaventura organized by the Juvenile Service Foundation, institution dedicated for 30 years to the education and integrated care of children and young people in especially difficult circumstances of abandonment, danger or homelessness.
The integrated education project uses human training, aimed at strengthening the social skills and self-esteem of young people through activities such as play and sports, and business development training, which seeks to improve the labor skills of young people in line with the needs of the national productive sector. The project includes measures of occupational integration for groups of young people who are entering the labor market for the first time without qualifications and need to acquire labor skills.
The project also attempts to solve in situ the problems of poverty by slowing the Buenaventura-Cali-Bogotá migratory cycle, which saturates Colombia's main cities and swells their "cordons of misery" which breed delinquency and marginality.
This initiative accompanies other actions of this type which CAF is promoting in the area of Social Responsibility along with its Local Opportunities Program which generates basic capacities in underprivileged communities in an effort to increase real opportunities for progress.
The funds approved confirm CAF's commitment to the development of the country. The Corporation has financed major physical integration projects in the Buenaventura-Bogota corridor including La Línea tunnel and infrastructure development in Buenaventura port.