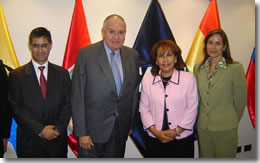 Principles of Good Governance for Peruvian Companies to be updated
April 18, 2007
CAF approves funds for updating rules
Peru was the pioneer in applying these principles with positive results
(Lima, April 18, 2007)
.- The agreement on Updating the Principles of Good Governance for Peruvian Companies was signed today by CAF and the National Supervisory Commission of Companies and Securities (CONASEV). Under the agreement, CAF grants technical cooperation funds as part of its Program to Promote Good Practices in Corporate Governance and expects the new rules to deepen development of this area among Peruvian companies.
"With the update we plan to offer an element of consultation which Peruvian companies can use effectively to increase their productivity and scope. Each company will benefit, but also the entire Peruvian stock market which will be more competitive" CAF representative in Peru Germán Jaramillo said.
The new version will be an important instrument for national companies, paving the way for them to access other sources of financing on more competitive markets where economic agents, especially investors, value application of good corporate practices.
Peru was pioneer in the region
In 2002 Peru presented the "Principles of Good Governance for Peruvian Companies," which were prepared by a public-private committee headed by CONASEV with representatives from the Ministry of Economy and Finance (MEF), Banking and Insurance Superintendency (SBS), Lima Stock Exchange (BVL), Banking Association (ASBANC), National Confederation of Private Business Institutions (CONFIEP), Association of Capital Market Promotion Companies (PROCAPITALES), and Capital and Financial Markets Study Center (MC&F).
This important business consultation document requires early update according to one of the conclusions of the CAF consulting study "Integrated Evaluation of the System of Regulation, Application, Dissemination and Supervision of Corporate Governance Practices of Peruvian Companies" prepared in 2005 because the Peruvian principles are based on the OECD principles of 1999.
This study recommended an increase in the educational capacity of the regulations, inclusion of issues proper to corporate governance not dealt with in the original document and revision of legal aspects.
"Principles of Good Governance for Peruvian Companies" is divided into six chapters: shareholders' rights, equitable treatment of shareholders, function of stakeholders in corporate governance, communication and information transparency, responsibilities of directors, and companies not registered in the public register of the stock market.
The Peruvian principles are voluntary and applicable to all types of company, whether or not they have securities registered in the public register.