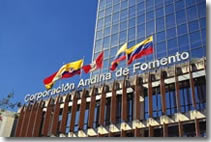 Strengthening of Brazilian financial system continues
April 25, 2007
The Corporation grants new line of credit for US$20 million to Bicbanco
This is the third approval for the Brazilian financial system in 2007, now totaling US$370 million.
(Caracas, April 20, 2007).- The Andean Development Corporation (CAF) announced the granting of a US$20-million uncommitted revolving line of credit in favor of the Brazilian financial institution
Banco Industrial e Comercial S.A. (Bicbanco)
. The operation reflects the Corporation's support for the regional financial system as an important pillar for achieving sustainable development in its shareholder countries.
CAF President & CEO Enrique García said that "approvals such as the one we are announcing today are part of the CAF strategy to play a catalyzing role in Latin America, by strengthening financial institutions whose objectives include financing the productive activities of small and medium-sized enterprises, key segments for creation of employment and development." The operation in question is the third this year for the financial system of this South American country. At the end of March lines of credit for US$200 million were approved in favor of Bradesco, and US$150 million for the Brazilian Development Bank (BNDES). The three operations total US$370 million.
The new line approved will help Bicbanco finance short- and medium-term operations for its customers instrumented through overdraft lines, working capital and accounts receivable loans, foreign trade operations, guarantees, and loans with BNDES lines, among other services.
Bicbanco is a medium-sized financial institution in the Brazilian financial system, with a business profile targeted at small, medium and large enterprises. Although in principle it serves a market niche, the portfolio is diversified by customers and sectors, with short-term financial products, with a high percentage of commercial risk and trade finance.