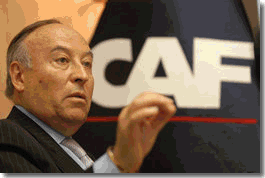 CAF promotes development of business networks
May 10, 2007
International experts analyze current situation and projections for creation of business networks in Latin America.
(Lima, May 10, 2007).- To promote the exchange of ideas and experiences between entrepreneurs and representatives of public, private and academic organizations on clusters and their importance in business development, the Andean Development Corporation (CAF) today held the
International meeting for competitiveness and development of commercial networks
(CAF-Networks for Competitiveness).
The event is part of the CAF Competitiveness Support Program (PAC). The main participants were CAF President & CEO Enrique García and prominent international experts who analyzed the current situation, advantages and projections for clusters in the region, helping CAF define its future actions in Latin American countries.
The presentations covered four sessions which offered contributions and experiences on the theme, generating values for promotion of competitiveness and business development.
In the first session, Christian H.M. Ketels, representing the Harvard Business School Institute for Strategy and Competitiveness, gave the keynote paper on Clusters and competitive advantages in the world economy, introducing the subject with a conceptual approach to cluster development.
The role of the public sector and international alliances for promotion of business networks was the title of the second paper, which identified the characteristics of successful public (or mixed) intervention in promotion of productive networks. The papers were presented by Claudio Maggi, development manager of Foundation Chile; Carlos Alberto Dos Santos, director of administration and finance of the Brazilian Support Service for Micro and Small Enterprises (SEBRAE), among others.
The third session was on Opportunities for generation of value throughout productive chains. During the presentations, experts on the area, including Beatriz Tubino, general manager of the Peruvian Asparagus and Vegetable Institute (IPEH), explained how initiatives of entrepreneurs have developed clusters with achievements in innovation, quality, diversification and market penetration.
The presentations in the last session on Importance of development of supplementary services for clusters covered experiences and ways in which suppliers have generated value in cluster development. The papers were given by prominent experts such as Remigio Álvarez, director of international productive chains, Nacional Financiera (NAFIN) of Mexico; Michael Penfold, professor at the Institute of Higher Administrative Studies (IESA), Venezuela, among others.
PAC's main line of action is to promote projects on cluster promotion, productive chains and development of suppliers as mechanisms for stimulating business development and competitiveness in the region. For CAF, this event is an important opportunity to make these concepts better known and exchange experiences and best practices from successful cases.
The International meeting for competitiveness and development of business networks took place in the presence of Foreign Trade and Tourism Minister Mercedes Araoz, currently vice president of the National Competitiveness Council; and Premier Jorge del Castillo, who gave the closing address.