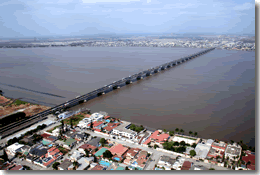 Latin America toward productive transformation
May 04, 2007
CAF and FLACSO hold seminar on Productive transformation in the countries of Latin America.
Quito, May 3, 2007.- The growth lag in Latin America in recent decades has been associated, among other factors, with the low quality of international participation reflected in a high concentration of exports and a low level of productivity which limit the competitiveness of the region's export offer. The experience of some countries after the Second World War shows that, through productive transformation, it is possible to increase participation in global markets and achieve economic growth that generates quality employment and systematically reduces poverty.
To debate the importance of changing the direction of the region's economic growth model, specifically Ecuador, the Andean Development Corporation (CAF) and the Latin American Faculty of Social Sciences (FLACSO) will hold the seminar Productive transformation in the countries of Latin America.
The seminar, as a space for discussion, aims to stimulate implementation of new economic policies designed to increase diversification and productivity, leading to higher growth and a better quality of life for the inhabitants of the region. The results of the publication "Path to productive transformation in Latin America," which deals with a series of proposals that address some of the challenges created by these important issues, will also be made known at the seminar.
This new edition of the annual Report on Economy and Development proposes adoption of policies based on promoting new activities, creating and developing clusters, and attracting quality foreign direct investment, all of which require permanent State involvement.
The event will take place on Thursday May 3 from 8:30 am in the FLACSO auditorium with the participation of Luis Miguel Castilla, CAF representative for Ecuador; Luis Miguel Castilla, CAF chief economist; Adrián Bonilla, FLACSO director Ecuador; Fander Falconi, national planning secretary; Raúl Sagasti, minister of Industries; Eduardo Valencia, president of the National Financial Corporation; Lenin Parreño, CAF country economist; Roberto Aspiazu, executive director of the Ecuadorian Business Council; Juan Ponce, director of graduate studies in economics and researcher at FLACSO; Osmel Manzano, CAF deputy director of economic research, among others.