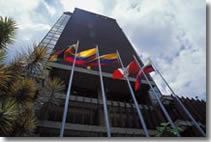 Opportunities for the intellectually handicapped through sport
May 18, 2007
CAF approved a non-reimbursable technical cooperation grant for the Special Olympics in Peru and Venezuela.
The project is part of the CAF Sports Training Program and will also cofinance the holding of the South American Special Olympics Football Tournament to be held in July during the America Cup in Venezuela.
(Special 17 May 2007).- The Andean Development Corporation approved the grant of non-reimbursable funds to reinforce and consolidate the Special Olympics Program in Peru and Venezuela with the aim of using sport to facilitate the personal development and social inclusion of intellectually handicapped persons. In Latin America the handicapped population fluctuates between 2% and 7% according to the World Health Organization (WHO).
The purpose of the project is to expand the activities of the Special Olympics in Arequipa (Peru) and in the west of Caracas (Venezuela) to initiate 650 intellectually handicapped boys and girls, young people and adults in sports practice. The CAF contribution will also be used to create and strengthen the organizational infrastructure needed for continuity of ongoing programs under the project, aside from the short-time horizon.
The Corporation's funds will also help reinforce the Special Olympics in the South American Football Tournament to be held in July 2007 in Venezuela during the Football America Cup.
Sports practice is a tool which, in addition to increasing the self-esteem of handicapped people and emphasizing their skills and talents, contributes to their social inclusion. With these funds, CAF confirms its character as an organization for promoting the development of the most disadvantaged sectors, and strengthens its Sports Training Program whose objective is to use sport as an instrument for integration, integrated growth and development.