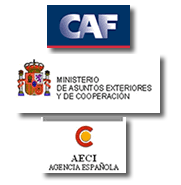 Spain joins efforts for Latin American development
(Madrid, May 16, 2007).- The Andean Development Corporation and the Spanish International Cooperation Agency (AECI) today signed a protocol to strengthen and expand their joint efforts to contribute to social development in Latin America through recovery of cultural heritage and entry of low-income young people into the labor market.
The ceremony in the AECI headquarters in Madrid was attended by its Secretary General Juan Pablo de la Iglesia, CAF President & CEO Enrique García, and director of international finance of the Ministry of Economy and Finance Isabel Riaño, among others.
The CAF president said: "The CAF and AECI alliance has proven to be an effective tool for reducing poverty by promoting development programs and projects which offer opportunities for low-income young people."
AECI Secretary General Juan Pablo de la Iglesia expressed: "Satisfaction with the progress made in AECI's relations with CAF, which make a decisive contribution to social cohesion by creating employment opportunities for the young people of Latin America. This common framework of action also opens the way for studying other possible areas of cooperation in development-related sectors which are part of the activities of both institutions."
The alliance between CAF and AECI began in 2005 with the signing of a memorandum of understanding which was ratified in 2006 with the Protocol which included 11 workshop schools. The objective of these educational institutions is to integrate excluded young people into the labor market through training for recovery of cultural heritage.
Six new workshops schools will benefit from the new agreement in the 2007-2008 period: Santo Domingo (Dominican Republic), Colca (Peru), Chiquitos (Bolivia); and Quito, San Andrés-Quito and Cuenca (Ecuador). They join the 11 which are already being cofinanced in Sucre and Potosí (Bolivia); Cartagena, Popayán, Mompox and Bogotá (Colombia); Arequipa, Cuzco and Lima (Peru); and Coro and La Guaira (Venezuela). The total amount for the protocol is over 5 million euros for the two-year period.
The Plan will be instrumented by the AECI Office for Cooperation with Ibero-America and the CAF Office of External Relations.
CAF is a multilateral financial institution which promotes sustainable development and integration in Latin America, through efficient mobilization of international financial resources and other strategic activities for the benefit of its shareholder countries. Spain has been a member of the Corporation since 2002.
The AECI is an independent agency attached to the Spanish Ministry of Foreign Affairs and Cooperation responsible for programming and execution of Spanish development cooperation policy.
With this agreement, both institutions confirm their decision to strengthen their strategic alliance aimed at creating development initiatives to reduce social gaps and make a frontal attack on poverty.