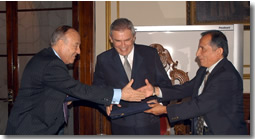 Urban transport to improve in Lima
May 10, 2007
Non-reimbursable technical cooperation grant to update passenger demand study for Lima Urban Train
The Lima Urban Train, better known as the Electric Train, will move hundreds of thousands of low-income passengers.
(Lima, May 10, 2007).- To recover the quality of life of the population of the city of Lima and solve serious problems of urban mobility, the Andean Development Corporation (CAF) and the Autonomous Authority for the Lima and Callao Mass Transport Special Electric System Project (AATE), agency attached to the Lima Metropolitan Municipality, today signed a technical cooperation agreement to finance the Updating of the Passenger Demand Study for Line 1 of the Lima Urban Train.
Passenger demand on Line 1 was estimated in 2001 to average 312,000 passengers a day and 100 million trips a year. In recent years, in addition to population growth, general economic activity in the city has steadily increased which is reflected in a higher volume of trips and passengers.
"This is a very important project for Peru and CAF. Lima urgently needs the electric train because it is a high capacity system for passenger transport which offers faster, safer, cheaper and cleaner urban transport," said CAF President & CEO Enrique García.
AATE President Víctor Pacahuala Velásquez welcomed the support that CAF is offering through this technical cooperation agreement to finance the new study. "With the updated study, we hope to improve the possibilities of success of the project concession process. The project is the most efficient solution for meeting the demands of mass public transport."
The Lima Electric Train is a cheap, safe and non-polluting mass transport system which will move hundreds of thousands of low-income passengers, connecting the districts of Villa El Salvador, Villa María del Triunfo, San Juan de Miraflores, Surco, San Borja, La Victoria with downtown Lima. An important passenger flow is also expected to the commercial and industrial center of Villa El Salvador which is a Southern Cone development pole.