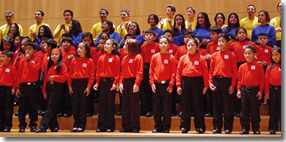 Pequeños Cantores de los Andes to sing at prestigious choral festival in France
(Caracas, June 26, 2007).- The "Pequeños Cantores de los Andes" choir will participate from July 5 to 14 in the Polyfollia Festival 2007, held annually in Normandy, France where the world's best choirs meet to promote choral music internationally. The Venezuelan choir - a chapter of the Andean Development Corporation Social Action for Music Program – is backed by the Venezuelan Schola Cantorum Foundation and the International Choral Federation.
The "Pequeños Cantores de los Andes" ensemble is the result of four years' work in Andean countries, which has facilitated the social integration of over 4,000 children and young people from low-income sectors through the practice of choral music and the values that it embodies: attention span, teamwork, solidarity, personal betterment and development. A representative group of 40 choristers aged 12 to 18 was chosen from the children and young people to represent the choir at the Polyfollia Festival 2007, under the direction of Ana María Raga and Luimar Arismendi.
"Pequeños Cantores de los Andes" plan to hold two preparatory concerts in Caracas before leaving for France: the first on Saturday June 30 at 4 pm in the Simon Bolivar University auditorium, and the second on Tuesday July 3 at 6:30 pm in the Antonio José de Sucre auditorium in the CAF headquarters.
To cover the important choral movement in Venezuela, French TV Channel France 3 filmed in Caracas in March a report of almost 30 minutes on the activities of the youth choirs promoted by CAF and Schola Cantorum. The report was transmitted by the French channel on June 23, and can be seen on the internet on the Polyfollia website (www.polyfollia.org).
This project is part of the social responsibility activities led by CAF through its Social Action Program for Music. Over 30,000 children and young people from the region form the music training network promoted by the Corporation since 2000 which covers choral, orchestral and string instrument experiences.