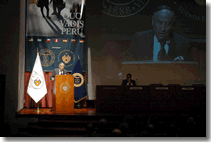 CAF: Peru, one of the countries of the region with best prospects
July 17, 2007
CAF President & CEO Enrique García gave a presentation on "A new renewed development agenda for Latin America" at the Annual Economics Forum organized by the Lima Chamber of Commerce.
Lima, July 17, 2007.- Peruvians should feel very satisfied: compared with the rest of the region, their country is one of those with the best prospects of economic growth because it has adopted a unique agenda that will give it a continuity of basic policies for the future, which other nations have not yet achieved.
This was the opinion expressed by CAF President & CEO Enrique García during his presentation "A renewed development agenda for Latin America" at the opening session of Annual Economics Forum I 2007, organized by the Lima Chamber of Commerce.
During his presentation, Garcia said that Latin America was living through a very interesting stage in which we must be optimistic and at the same time realistic.
"The good news is that Latin America currently has good macroeconomic conditions, a good level of reserves and has achieved debt reduction. It is much better prepared to deal with an adverse short-term situation should it occur."
However, he warned that this good cycle in the region should be used to implement reforms, improve infrastructure, institutions, education, financial markets and achieve intelligent participation in international markets.
García said that now the main challenges for Latin America are: promote productive transformation, achieve intelligent international participation, and foster social inclusion.
With respect to the productive transformation, he said that generation of clusters must be promoted in certain areas such as agroindustry, creating the conditions for "a transition from economies with comparative advantages to economies with competitive advantages."
International participation was fundamental for seeing the world and making the world see us, through bilateral mechanisms, multilateral free- trade agreements or regional agreements, such as those generated by the Andean Community, he added.
Lastly, the CAF president said that if social inclusion were not achieved, that is, if the benefits of higher economic growth did not systematically reach the majority of the population, social pressures would inevitably be grow in our countries.
The Annual Economics Forum 2007 was attended by distinguished national and international experts who described their experiences and made constructive proposals on the economic measures that need to be adopted in the next few years in the region.
By participating in this activity, CAF is supporting Peru's efforts to build a sustainable economic and social development model with equity, which includes a medium- and long-term domestic agenda to set spending and investment priorities, and determine expected opportunities and risks in an effort to reduce poverty and improve the quality of life of the population, in particular the most excluded sectors.