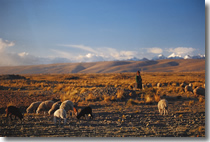 CAF promotes rural microenterprise development
July 23, 2007
The Andean Development Corporation, in coordination with the Latin American and Caribbean Forum on Rural Finance (Forolacfr) and the Bolivian government, held the international seminar "Campesino Economies and Rural Financial Services" from July 18 to 20 in La Paz, Bolivia.
In the context of globalization prevailing in recent decades in our region, rural poverty and inequality have intensified. Globalization and free trade agreements have created asymmetric forms of participation of campesino agriculture in markets.
In this context, it is necessary to analyze the feasibility, relevance and conditions of participation of rural and campesino economies in a globalized environment and use that understanding to identify the opportunities and challenges facing rural financing.
The event was opened by Bolivian Vice President Álvaro García Linera, and CAF Corporate Vice President of Country Program Liliana Canale. The CAF deputy director of SME and Microfinance, Alejandro Soriano, gave a presentation on the development prospects of the rural sector in the framework of an integrated development agenda.
Also participating in the event were Manuel Malaret, director of SME and Microfinance; José Carrera, representative; and Hermann Krutzfeldt, Claudia Zambrano, Juan Luís Briancon, Gonzalo Mérida and Eduardo Muñoz, all from the CAF representation in Bolivia.