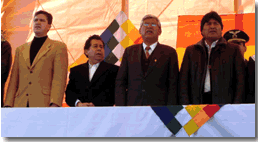 Construction works begin on Potosí-Uyuni highway
July 10, 2007
CAF grants US$75 million loan to finance this road section
(La Paz, July 10, 2007).- Construction work begins tomorrow on the Potosí-Uyuni highway with US$75 million in financing from the Andean Development Corporation together with local funds of US$33.2 million. The project is being executed by Administradora Boliviana de Caminos (ABC).
The funds will be used to finance direct construction costs, including supervision, inspection, environmental and social costs, pre-investment studies, financing fees and project appraisal expenses.
CAF President & CEO Enrique García said start of the works on this section was important "because development of road infrastructure in this region will favor over 150,000 people in localities adjacent to the highway with opportunities for increased participation in economic activities related to tourism, mining, agriculture and camel ranching, along with better access to goods and food and health services."
This road section, which connects the departmental capital of Potosí with Salar de Uyuni, one of Bolivia's main tourist attractions, also connects the localities of Agua de Castilla, Porco, Chaquilla, Pelca, Tica Tica, Ollerías and Pulacayo whose inhabitants will benefit from the new highway and from projects related to incentives for tourism activity and productive agriculture, as well as environment upgrading through recovery of marshes and wet grazing areas to improve their capacity for camel ranching.
The topography of the 201-km Potosí-Uyuni highway ranges from flat to semi-mountainous with high slopes between 3,977 and 3,665 meters above sea level.
The intensely used route terminates at Salar de Uyuni, the main tourist attraction in the south of Bolivia, and crosses areas where the native cereal quinua real is cultivated, which is a crop with high international demand.
For CAF, this operation is part of the South American Regional Infrastructure Integration Initiative (IIRSA) which favors social, economic and administrative integration through trade in goods and services and movement of people between the Altiplano, valleys and the eastern plains of Bolivia. When completed, the highways of this part of the country will become corridors for foreign trade with Chile and the rest of the world.