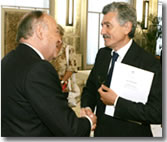 Italy strengthens relations with CAF
July 27, 2007
On a recent visit to Italy, a CAF delegation led by President García moved toward closer links with the European nation.
Economic development and combating poverty are some of the objectives of this relation of mutual interest.
(Caracas, July 27, 2007).- A delegation from the Andean Development Corporation led by CAF President & CEO Enrique García visited Rome and met with Italian Prime Minister Romano Prodi, Foreign Minister Massimo D'Alema, Minister and Vice Ministers of Economy and Finance Tommaso Padoa-Schioppa and Vincenzo Visco, respectively, and other personalities from the political and business world.
García said, "This is part of the process of forging closer links between CAF and Italy. This alliance is a vehicle of support for Latin American development and combating poverty in our region." It is an important step toward the Italian Republic's subscription to the CAF capital in the near future, he added.
During various meetings, the delegation gave presentations on the Corporation and discussed cooperation between Italy and CAF, taking into account that this European country perceives the multilateral financial organization as a very important international organization in the Latin American continent.
During the meetings, Italian authorities and business leaders expressed interest in building closer ties between Italy and the Latin American region based on the existence of deep cultural and commercial links. In this respect, they expressed recognition of CAF as a key actor in regional development.