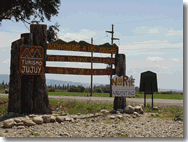 Seminar on launch of tourism products
(Caracas, July 4, 2007).- The closing seminar of the Rural Tourism Network in Andean Countries project will be held from July 2 to 6 in the cities of Tarija (Bolivia) and Jujuy (Argentina). The purpose of the project was to exploit the tourism potential of the Andean areas (Argentina, Bolivia and Venezuela).
CAF has led this initiative since 2004 as part of its social responsibility activities under the coordination and advice of the Tropical Andes Foundation, with support from the Spanish Codespa Foundation, Repsol YPF and the local partners ProYungas Foundation and Prometa.
The seminar presents the results of the project and is a launching platform for tourism products which the community tourism associations - created in the framework of the project - will market for travel agencies, local and public institutions in general.
The event will be attended by Argentine Minister of Production and Environment Hugo Tobchi and Bolivian Vice Minister of Tourism Ricardo Cox, along with representatives from the Tourism Secretariats of Jujuy, Salta and Tarija, and the organizations that support project. During the event participants will visit other places where the project is in operation.
The Rural Tourism Network in Andean Countries project, which successfully ended its first phase, has generated opportunities for work with low environmental impact and proven ecological and social sustainability - such as ecotourism and rural tourism - in campesino and indigenous communities in Andean countries. After three years' work, three community tourism associations have been set up and three tourism service networks established in Salta and Jujuy (Argentina) and Tarija (Bolivia), formed by 47 family microenterprises created under the initiative.
The project is part of the Local Opportunities Program run by the CAF External Relations Office whose objective, through micro-interventions in the local sphere, is to generate basic capacities in underprivileged communities in an effort to increase real opportunities for progress.