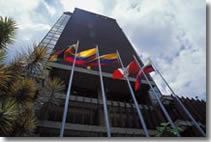 Approval in favor of Bancoldex
August 13, 2007
CAF approves US$200-million line of credit for this financial institution to strengthen foreign trade and the SME sector in Colombia.
(Caracas, August 13, 2007).- The Andean Development Corporation today approved US$200 million to update the line of credit for Banco de Comercio Exterior de Colombia S.A. (Bancoldex).
"Bancoldex has been a CAF client for over ten years, receiving support to develop Colombian exports and - more recently - strengthen the modernization of small and medium industry in this partner country of the Corporation," Enrique García, president & CEO of the multilateral development bank, said.
García added that Bancoldex acts as a financial tool for strengthening the productive sector and its orientation to the international market. "It has been positioning itself in the market as the 'Bank for Colombian business development and foreign trade,' which is in line with our mission of supporting Latin American sustainable development"
Bancoldex concentrates its portfolio on financial intermediaries which it finances. In turn these institutions assist their customers with foreign trade and working capital operations fundamentally for the SME sector which CAF supports in a variety of ways because of its impact on improving social conditions in Latin America.