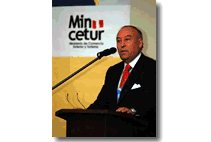 Backing for trade and cooperation between Latin American and Asian countries of the Pacific Basin
(Lima, August 20, 2007).- The Andean Development Corporation plans to take specific action to finance programs and projects identified by the countries of this part of the hemisphere in an effort to expand trade relations with the Asia-Pacific countries and stimulate cooperation in the region.
CAF President & CEO Enrique García made this statement during the opening of the II Forum on the "Latin American Pacific Basin Initiative" organized in Lima by the Peruvian ministries of Foreign Affairs and Foreign Trade with the participation of foreign and trade ministers and high-level representatives from Colombia, Costa Rica, Chile, Ecuador, El Salvador, Guatemala, Honduras, Nicaragua, Mexico and Panama.
"We were pleased to support the Foreign Relations and Trade ministers of Peru in their request for a non-reimbursable technical cooperation grant to finance studies prepared by specialized consultants, which will be the basis for a constructive debate at this time. For this reason, it is satisfying to participate in this opening session and I reaffirm CAF's willingness to support this and other initiatives related to creating better opportunities for the region."
The CAF head added that the Latin American Pacific Basin Initiative was clearly of great importance. It represents the actions of 11 countries with a combined GDP of over US$1.4 billion, 50 million inhabitants, foreign trade worth US$35 billion, and great trade prospects.
Trade and intra-regional relations have been growing rapidly. The countries of the region have 11 trade agreements with their counterparts in the Asian basin, together with investment protection agreements.
García added that Latin American countries would be able to participate in the vast and vigorous Asian market, which has a much higher growth rate than the region, as they achieve an effective productive transformation and export products with value added; improve competitiveness in infrastructure, logistics, technological innovation; generate development clusters; create sources of financing and intelligently negotiate trade and investment agreements.
"You can count on CAF taking specific actions to finance programs and projects aimed at achieving the objectives proposed in this forum. Seven of the countries represented in the Latin American Pacific Basin are CAF shareholders and I hope that all can become partners of the institution in the future," García said.