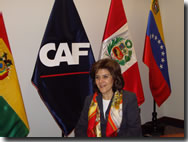 Eleonora Silva, new representative in Peru
August 03, 2007
The new representative, a Venezuelan, has extensive experience in the organization and has been treasury director since 2000.
(Lima, August 3, 2007).- CAF President & CEO Enrique García appointed Eleonora Silva as new representative in Peru to replace Germán Jaramillo who will now represent the multilateral financial organization in Spain.
Making the appointment, García said that the Corporation had approved operations in Peru totaling US$4 billion for the 2007-2011 period. Last month a US$400-million loan was approved to support the Program for Social and Infrastructure Investments to Combat Poverty in the country.
Silva said, "CAF's mission is to support the governments of the region and we will continue in this endeavor. In our case, we confirm the Corporation's commitment to the development of Peru, through support for specific programs and projects for the public and private sectors, especially infrastructure projects, but also social development."
Since she joined CAF in 1994, she has done excellent work in the Vice Presidency of Finance, in particular as treasury director since 2000.
In that position she contributed to the growth of the investment portfolio and to the efficient management of liquidity.
Prior to joining the Corporation, she held various positions in the international treasury office of Banco Provincial in Venezuela (1990-1994), where she reached the post of sector manager.
She was also head of international operations at Banco de Maracaibo (1988-1990) and head of planning in La Industrial Savings and Loan (1984-1988), both in her native country.
Eleonora Silva has a degree in agricultural economics, with a Master's in that area from the University of Gainesville, Florida, United States.