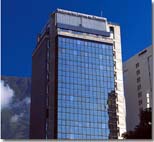 Line of credit approved for Findeter
August 01, 2007
With this loan, CAF contributes to a financing alternative for vital infrastructure projects for the development of the country
(Bogotá, August 1, 2007). The Andean Development Corporation (CAF) and Financiera de Desarrollo Territorial (Findeter) signed an agreement for a US$50-million line of credit.
Findeter will use the funds to meet the National Government's goals in priority sectors, which are integrated in the Government Information System (Sigob) and which favor the development of the country.
Findeter is a rediscount financial institution whose objective is to finance infrastructure projects, focused on promoting regional and urban progress for the common good, through loans to public and private bodies. These funds are disbursable through financial intermediaries such as commercial banks, commercial finance companies and financial corporations, through the rediscount system.