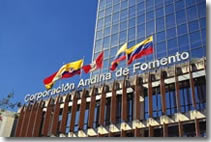 New approval for Brazilian financial system
August 01, 2007
US$50-million line of credit for Banco Votorantim
(Caracas, August 1, 2007).- Due to the positive management and strengths of Banco
Votorantim
, the Andean Development Corporation granted a US$50-million line of credit to the institution to finance foreign trade, working capital and investment by companies in low risk sectors with high value added in this shareholder country of the Corporation.
CAF President & CEO Enrique García said with this operation "we are continuing, efficiently and coherently, to play an important role in financing Brazilian banks based on the expansion and growth of the country's financial sector in recent years." It is one more expression of the catalyzing role assumed by CAF in favor of investment and foreign trade promotion, he added.
Banco Votorantim began as a stockbroker in 1988 and became a bank in 1991. It is part of the Votorantim Group and since December 2006 has become the tenth bank in Brazil by assets. Its strategy targets the corporate market, segmented into three groups: large corporate, corporate group and medium companies.