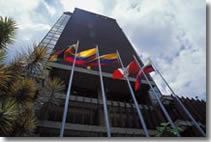 Support for road infrastructure in Costa Rica
August 28, 2007
CAF will provide economic and technical assistance to the Costa Rican Ministry of Public Works and Transport for design of bridges in the south of the capital city and other important structures.
(Special, August 28, 2007).- As part of the actions taken by the Andean Development Corporation in favor of Latin American development, a technical cooperation agreement was recently signed between the Republic of Costa Rica and the multilateral financial organization. Costa Rican Minister of Public Works and Transport (MOPT) Karla González, and CAF president & CEO Enrique García signed the document.
Under the agreement, CAF will support the ministry in the design of bridges in the south of San Jose, the capital city, and other important structures for the country. The works will replace the Alajuelita and Paso Ancho roundabouts. The purpose of the structures, whose studies could be ready by the end of the year, is to improve conditions in locations with high traffic flows.
According to reports, CAF support will not be limited to the bridges. Projects will soon begin for construction works in other regions of the country. The Corporation recently approved a US$100-million loan in favor of Instituto Costarricense de Electricidad (ICE), the state utility which manages a strategic sector for development of Costa Rica and is responsible for hydroelectricity production, and provision of advanced-technology communications services. The program approved provides financial support for development and execution of the utility's investment plans in the electricity area.
In another development, in the week of August 21-24, a mission from the CAF Vice Presidency of Infrastructure visited Costa Rica to evaluate the first application for sovereign loan by Costa Rica for US$60 million. The funds will be used to finance road works in the country's Atlantic Corridor included in the Puebla-Panama Plan integration program. Specifically the CAF funds will finance the Bajos de Chilamate – Vuelta Kooper project and the Bridge over the Sixaola River, which connects Costa Rica with Panama.