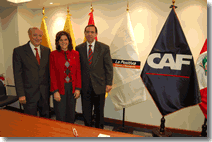 CAF signs agreement with "La Positiva Seguros y Reaseguros"
September 13, 2007
The agreement develops micro-insurance products for micro-entrepreneurs and low income sectors
(Lima, September 13, 2007).- The Andean Development Corporation signed an agreement for reimbursable technical cooperation funds for US$100,000 with "La Positiva Seguros y Reaseguros" insurance company. The objective is to expand access by microenterprises and low-income sectors to a wide range of micro-insurance.
The agreement was signed by CAF representative director in Peru Eleonora Silva Pardo, and the general manager of "La Positiva Seguros y Reaseguros", Guillermo Zarak. Also present at this important ceremony were the president of La Positiva, Juan Manuel Peña, who thanked CAF for the support offered which will give Peruvians and their families protection in case of an unfortunate event.
The representative of the multilateral organization said that the project was aimed at enlarging access to micro-insurance as a protection mechanism, based on an appropriate platform and targeted at low-income sectors. About 50% of the population, some 14 million people, are in the low or insufficient income segments, mostly micro-entrepreneurs and wage earners.
After predicting the success of the project, the CAF representative said that these products could be adapted and replicated in other countries of the region, with CAF acting as promoter of access to integrated financial services targeted at sectors that currently have no available cover for various types of risk.
"CAF intends to act as promoter of the project, which could result in replication in other countries, converting our institution into the benchmark organization in Latin America and the Caribbean for development of micro-insurance," the CAF representative said.
The president of La Positiva said that in the diversity of products and services, micro-insurance had not yet expanded to a mass market, basically due to lack of low-cost products, absence of a culture of insurance, and general unawareness among the target public, which means that access to existing insurance cover is limited to higher socioeconomic levels.
in Peru the percentage of insurance premiums in relation to 2006 GDP is only 1.28%, while the Latin American average is 2.35%, reflecting the low level of insurance penetration in Peru, where less than 20% of the population (5.6 million) have access to protection services through insurance policies, the CAF executive added.
"La Positiva Seguros y Reaseguros" is planning to develop and expand its insurance offer to these less favored sectors which will receive the privileges of adequate coverage at very low prices."
"La Positiva Seguros y Reaseguros" - founded in 1937 - has a long record in the insurance sector. It has offices in the main cities of Peru, and investments in important insurance companies in Bolivia, Nicaragua and Panama.