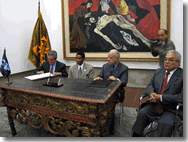 Chapel of Man Cultural Complex receives support
September 06, 2007
The Andean Development Corporation approved a technical cooperation grant in favor of the Guayasamín Foundation for completion of the Chapel of Man Cultural Complex.
(Quito, September 6, 2007).- As part of a series of activities to valorize and disseminate the culture of its member countries, CAF has approved a non-reimbursable technical cooperation grant for expansion of the Chapel of Man Cultural Complex. The funds will be used for partial construction of supplementary works for this emblematic space in the city of Quito.
The Chapel of Man Cultural Complex was built by the famous Ecuadorian painter Oswald Guayasamín, and opened five years ago as a place for reflection on Ecuadorian cultures and projection into the 21st century. On the day of its opening, the National Congress decreed the chapel as national cultural heritage. The complex has become the preferred place for Latin American visitors and artists to get to know the work of Oswald Guayasamín, the leading Ibero-American painter, so declared by the Council of the President in December 1999.
CAF representative in Ecuador Luis Paláu-Rivas said that since its construction the Chapel of Man had become one of the city's emblematic spaces for important events. CAF's role as promoter of the integration and cultural revalorization of the Latin American region strengthens its image in this area, he added.
The Guayasamín Foundation, which is the organization responsible for the cultural complex, has a long record of over 30 years in cultural dissemination; artistic promotion; and preservation, conservation and exhibition of the cultural artifacts donated by its founder, Oswald Guayasamín. Its mission is to complete the work conceived by the artist by promoting and expanding cultural dissemination.
Since its opening, the Chapel of Man Cultural Complex has received 35,000 visitors, averaging 2,920 visitors a month and 110 a day, including many children and young people who benefit from the cultural heritage exhibited. It is also a space where important social, political and cultural events are organized by the Guayasamín Foundation and other cultural institutions of the country.