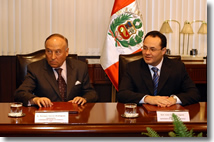 Finance for Program for Sustainable and Competitive Forest Development in Peru
September 19, 2007
Technical cooperation will lead to better use of forest resources.
(Lima, September 19,, 2007).- The President and CEO of the Andean Development Corporation (CAF) Enrique García, and Peruvian Minister of Economy and Finance Luis Carranza today signed a Non-Reimbursable Technical Cooperation Agreement to finance the "
Program for Sustainable and Competitive Forest Development in Peru
." The program takes an integrated approach by implementing a national forest policy that guarantees conservation and sustainable management, along with instruments that promote investment and competitiveness in the sector.
The CAF president said that the technical cooperation funds which the multilateral organization contributes would be used to finance studies, consulting, workshops and preparation of the technical documents required by the National Public Investment System (SNIP).
With the help of the program, Peru will make better use of its forest resources, and enhance quality of life and increase employment, García added.
"CAF supports the financing of investments in forest development with an integrated approach, which includes provision of instruments of public policy management with a clear orientation toward sustainable development. This cooperation will deepen support for the sustainable development of the sector. The assistance provided by our organization for preparation of the Forest Development Program means that we are participating – from the start – in one of the most ambitious sustainable development programs in Peru."
The CAF head added that the cooperation agreement provided a "key program" whose development would attract significant public and private investments with the support of subnational governments and beneficiary populations. Optimal execution of the Program marked the start of a new paradigm for public policies based on sustainable development through sustainable management of a natural resource.
In the socioeconomic area, the Program includes among its benefits more dynamic economies and an improved standard of living; increased employment; higher contribution to GDP; increase in export of wood and non-wood products; forest and wood certification, inclusion processes, equitable distribution of social benefits, reduction of poverty, and narrowing of the social gap between rural and urban populations.
For the environment, the expected benefits include conservation of a renewable natural resource; start of a sustainable forest policy; border strengthening; as well as recovery of degraded areas and protection of river basins; preservation of protected natural areas, native community lands and permanent production forests; and significant reduction of predatory illegal logging and deforestation, among others.