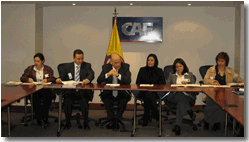 Invitation to National Competition of Successful Rural Women
September 12, 2007
Winners will represent their countries in the Regional Competition of Women Fighting Poverty to be held in La Paz, Bolivia.
(Bogota, September 12, 2007).- The First National Competition of Women Fighting Poverty opened for submission of entries. The event is sponsored by the International Fund for Agricultural Development (IFAD), the Andean Development Corporation, the Colombian Ministry of Agriculture and Rural Development, the Inter-American Institute for Cooperation on Agriculture (IICA), the Presidential Commission for Women's Equity, and the Kootirrawa Foundation.
The objective is to provide incentives for projects by rural women's organizations in the categories of agricultural production and crafts, rewarding the best efforts in the fight against poverty, taking into consideration market access, use of communication technologies, and mobilization of relevant actors as support.
The winners of the National Competition will receive a prize of one million pesos each and will represent Colombia in the "First Regional Competition of Women Fighting Poverty" organized by IFAD and CAF to be held on November 27 in La Paz, Bolivia. The international meeting will bring together winning women entrepreneurs from the five Andean countries: Bolivia, Colombia, Ecuador Peru and Venezuela, with competitions for prizes ranging from US$1,000-US$4,000.
The competition is open to rural women's organizations or microenterprises involved in agricultural production, as well as craftswomen entrepreneurs. Entries must be submitted from September 13 and October 5 in the format shown on the web page of the Ministry of Agriculture and Rural Development www.minagricultura.gov.co
The projects presented will be judged by a panel of representatives of the sponsoring organizations (CAF-IFAD), the national government and a delegate from a rural women's organization. Initially the ten best entries will be selected, which must be presented in Bogota. The two finalists will then be chosen to represent the country.
This competition is part of the CAF-IFAD relationship which has been maintained for over 25 years with the common objective of identifying and supporting productive projects with a view to improving the living conditions of the poorest rural communities. It is also part of the programs promoted by the Colombian Ministry of Agriculture and Rural Development in favor of rural women to improve quality of life in the poorest sectors.