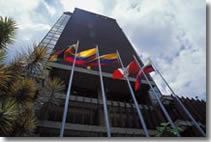 Line of Credit for leading Colombian chemical products company
September 07, 2007
Funds to be invested in working capital.
(Bogota, September 7, 2007).- The Andean Development Corporation approved a US$20-million line of credit for the firm Monómeros Colombo Venezolanos S.A. to finance working capital and foreign trade operations.
Monómeros Colombo Venezolanos S.A. is the country's leading and largest company supplying basic and intermediate chemical products to manufacturing industry and fertilizers for agriculture in Colombia and Andean countries. The firm received a similar credit from CAF several years ago.
As part of its strategic objectives, CAF develops initiatives to stimulate the growth and strengthen private enterprise in the economies of the region, resulting in generation of employment and production of goods and services for the population. The Corporation finances the private productive sector by granting long-term loans for construction and purchase of assets, lines of credit for working capital, and long-term project financing.