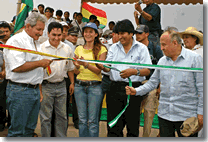 San Jose-Roboré asphalted road opened with US$74 million loan
September 21, 2007
The section is part of the Santa Cruz-Puerto Suárez corridor
Bolivian President Evo Morales, and CAF President & CEO Enrique Garcia took part in the opening ceremony together with local authorities.
(La Paz, September 21, 2007).- With financing of US$74 million granted by the Andean Development Corporation and US$3 million from the Santa Cruz Prefecture, the San José-Roboré road section was completed as part of the Santa Cruz-Puerto Suárez corridor which will link the country with the Atlantic and Pacific. The executing agency was the Administradora Boliviana de Carreteras (ABC).
"CAF is pleased to contribute to road development in Bolivia and to see the completion of this strategic section for national and international integration. The road is part of the first bi-oceanic corridor in the subregion, and is probably one of the most modern in construction. Bolivia is now a link between the Pacific and Atlantic oceans," Garcia said.
This 137-km paved road has two traffic lanes with a road platform width of 7.3 meters, and a 1.5-meter hard shoulder on each side; the design permits a speed of 110 km/h on flat sections and 80 km/h on curves.
The road work will complete the first road link from Bolivia to Brazil facilitating the flow of merchandise and bilateral and multilateral trade. The new section will benefit neighboring municipalities dedicated to livestock and production and marketing of soy, wheat and timber by linking these productive areas with major centers of consumption.
For CAF, this operation is part of the South American Regional Infrastructure Integration Initiative (IIRSA) which favors the social, economic, administrative and productive integration of peoples through trade in goods and services.