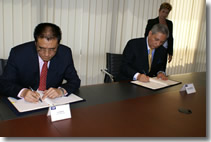 Ties with China strengthened
September 25, 2007
A delegation from the China Development Bank visited CAF.
The two institutions signed a document to obtain funds for infrastructure and social development projects in Latin America.
(Caracas, September 25, 2007).- The Andean Development Corporation received Liu Kegu, vice governor of the China Development Bank, in its Caracas headquarters in a move to strengthen existing business relations between the two financial institutions.
CAF President & CEO Enrique García said that this visit and previous meetings "express the Corporation's interest in forming strategic alliances to strengthen capacities and opportunities in favor of our partner countries." He added: "With the relations we are deepening here, we will be able to play an important catalytic role by transferring funds, projects and experiences from other regions into Latin America."
During the visit, a mandate letter was signed which commits the two organizations to a US$150 million loan agreement in the future. The funds contributed by CDB will be used to finance infrastructure and social development projects in Latin America, among others uses.
Liu Kegu said: "CDB plays a very important role in Chinese economic and social development. We have recently expanded our international business, emphasizing Latin America. We have sent and established residential missions in Bolivia, Brazil, Mexico and Venezuela, among other nations." He added: "We are making an effort to develop cooperation with Latin American countries, the SMEs of the region and we support social and infrastructure projects, so the agreement we are signing today with CAF is very important."
The Mandate Letter, which was signed under a Cooperation Agreement entered into last February by CAF and CDB, opens the way for future business opportunities between the two organizations.
The CDB is a Chinese state financial institution, founded in 1994, whose function is to support national economic development, actively participating in long-term financing for key infrastructure projects in Chinese industry.