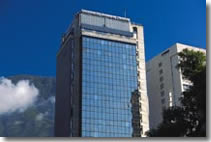 US$100,000 donation for Paraguay
September 13, 2007
CAF President & CEO sends letter of solidarity to Paraguayan president
Funds will be used to mitigate the devastating effects of the forest fires afflicting the country.
(Caracas, September 13, 2007).- The president & CEO of the Andean Development Corporation, Enrique García, approved a US$100,000 donation for the government of Paraguay along with other measures to mitigate the effects of the forest fires that are ravaging the country.
"In dramatic moments like these it is fundamental to support the efforts of the Paraguayan government in its respond to this difficult situation. For this reason CAF has worked to deliver these funds immediately as I mentioned to President Nicanor Duarte," said Enrique García referring to the letter sent yesterday to the Paraguayan head of state.
García also offered to relax the conditions of the operating funds already approved by CAF so they can be channeled, if needed, for use in the emergency situation. In the letter, on behalf of the multilateral organization, he expressed his most sincere solidarity with the Paraguayan people at the time of the devastating forest fires which are destroying natural forests, crops and homes, causing extraordinary losses. Paraguay has been a member of CAF since 1997.