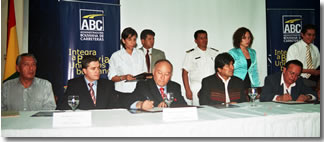 US$21 million for road connection in Bolivia
September 21, 2007
The objective is to rehabilitate the La Guardia-Comarapa highway known as the "Old Cochabamba-Santa Cruz Road," affected by torrential rains.
The section is part of the national emergency decreed by the government.
(La Paz, September 21, 2007).- The Andean Development Corporation will sign in the city of Santa Cruz on September 21, a US$21 million loan for the Republic of Bolivia to partially finance execution of the Rehabilitation Project for the La Guardia-Comarapa Highway (known as the old Cochabamba-Santa Cruz road) to be executed by Administradora Boliviana de Carreteras (ABC). The signing will be take place in the presence of Bolivian President Evo Morales and CAF President & CEO Enrique García.
The program is part of the objective of improving and expanding Bolivian road infrastructure to promote and create incentives for national and international physical integration. As García explained, the operation "is an example of CAF`s commitment to integration and improvement of internal communications and the quality of life of Bolivians."
The project, with a total cost of US$34.7 million, has two stages: first, preparation of the final design of rehabilitation of the old Cochabamba–Santa Cruz road, adopting the measures needed to guarantee acceptable conditions of transit in the rainy season; second, start of construction work including technical environmental supervision.
The CAF loan covers 60% of the total cost of the works. The national government and the beneficiary departments are committed to financing the remaining 40%.
The sections have a total length of 220.6 kilometers and are part of the Fundamental Road Network, connecting the capitals of Cochabamba and Santa Cruz departments. The routes link the localities of Comarapa, San Isidro, La Palizada, Abra del Quiñe, Mataral, Los Negros, Hierba Buena, Mairana, Samaipata, Las Cuevas, Bermejo, La Angostura, El Torno and La Guardia.