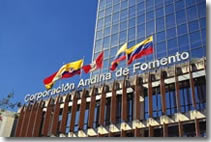 Approval in favor of Bancolombia Panama
October 11, 2007
CAF approved a US$50-million line of credit for the Panamanian subsidiary, in addition to the US$100 millon line of Bancolombia, the parent company
(Caracas, October 11, 2007).- The Andean Development Corporation (CAF) approved an uncommitted revolving line of credit for US$50 million for Bancolombia Panama, in addition to the US$100-million line held by Bancolombia, the parent company.
Enrique García, president & CEO of the multilateral financial institution, said "this new line of credit is due to the leading role of Bancolombia in its country of origin and the role it has played in the region in recent years." The operation of Bancolombia Panama has important synergies with its parent company in Colombia, both partner countries of the Corporation, he said.
The CAF head added that with the bank would use the new credit facility to finance its clients' foreign trade operations, working capital and investments projects, "activities that strengthen Latin American development, one of the pillars of our institutional mission."
Bancolombia Panama is a wholly owned subsidiary of Bancolombia opened in 1973 under an international license issued by the Panamanian Superintendency of Banks. Most of the placements and deposits relate to Colombian clients, supplementing the activities of the parent company in its country of origin.