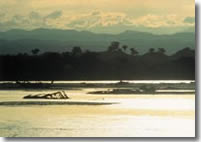 CAF presents its environmental strategy in Ecuador
October 25, 2007
Environmental director María Teresa Szauer met with representatives of public and private sectors and civil society.
(Quito, October 2007).- The environmental strategy of the Andean Development Corporation was presented to representatives of Ecuadorian public and private institutions and civil society.
During her recent visit to this country, CAF environment director María Teresa Szauer began the process of disseminating this important document, and met with actors in the environmental area in the cities of Quito and Guayaquil.
The CAF environmental strategy defines the environmental principles that govern its environmental management and sets out the lines of action and the strategic programs, in a constant search for responsible institutional action and effective support for strengthening the environmental sector of its member countries.
During her stay in Ecuador, the official presented the CAF "Environmental Strategy" to authorities of the national and subnational governments, environmental organizations and representatives of national and international NGOs.
CAF makes an important commitment to the environment in the framework of its institutional mission to promote sustainable development and regional integration by generating specific strategies and implementing programs and initiatives to develop innovative financing schemes, which increase the benefits of investment in the environment among the population in general.
Specifically, CAF supports conservation and sustainable use of biodiversity and sustainable management and preservation of the environmental services provided by ecosystems, improvements related to climate change and air quality problems, reduction of industrial and urban pollution, disaster prevention and risk mitigation, and improvement and dissemination of territorial and environmental information. All of which are key elements in decision-making. The multinational bank also backs processes of decentralization and strengthening of civil society and public and private institutions.