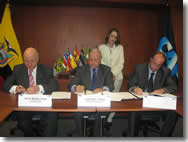 Loan agreement to expand productive capacity signed with IPAC S.A.
(Quito, October 17, 2007).- The Andean Development Corporation and IPAC S.A. signed a loan agreement for US$7 million to expand this company's productive capacity.
The agreement was signed in the Corporation's office in Quito in the presence of CAF representative in Ecuador Luis Pálau-Rivas, CAF deputy director Mauricio Salazar Torres, and for IPAC, President Heinz Moeller, and general manager Robert Pakuts.
The funds granted by CAF will finance part of the company's investment plan, namely purchase of equipment and facilities to increase productive capacity. With this investment, the multilateral organization is supporting vertical integration, strengthening and growth of the company at domestic level and its expanding exports to international markets.
IPAC, founded in 1972, is one of the leading companies in the Ecuadorian steel processing sector, manufacturing a wide range of steel products used in construction, infrastructure and industry in general, complying with strict international quality standards.