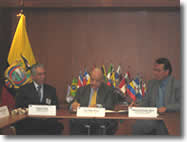 Master plan to solve Riobamba's potable water and drainage problems
October 04, 2007
CAF and Riobamba municipality signed a technical cooperation agreement for preparation of the potable water and drainage master plan
(Quito, October 4, 2007).- CAF representative in Ecuador Luis Paláu-Rivas, Riobamba Mayor Ángel Yánez, and Patricio Salvador, manager of the municipal potable water and sewerage company, signed a technical cooperation agreement to contract a consulting firm to prepare the Master Plan for Potable Water, and Sewage and Stormwater Drainage for the city.
Riobamba, which has an estimated population of 140,000, suffers from an inadequate potable water service mainly due to deterioration of the piping and distribution networks. There is also deficient capacity in the drainage networks in the central area, which has caused various public health emergencies in recent years.
The CAF representative said that thanks to the technical cooperation agreement, Riobamba municipality would be able to solve this problem in the short and the long term. The Corporation will fund a feasibility study and final designs for adoption of immediate and long-term measures to give the city a structural plan that responds to projected demand for potable water and efficient management of the sewage and stormwater drainage systems.
The contracting and supervision of the studies will be the responsibility of Empresa Municipal de Agua Potable y Alcantarillado (EMAPAR), while CAF will monitor the consulting.