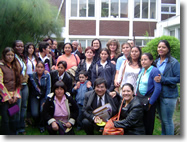 Prizes for women entrepreneurs in rural sector
October 31, 2007
Women's organizations from Nariño and Chocó were the winners
(Bogota, October 31, 2007).- In the presence of women from various regions of Colombia, the prizes of the First National Competition of Women Fighting Poverty were presented to the winners. The event was sponsored by the International Fund for Agricultural Development (IFAD), Andean Development Corporation (CAF), Ministry of Agriculture and Rural Development, Inter-American Institute for Cooperation on Agriculture (IICA), Presidential Council for Equality of Women, and Kootirrawa Foundation.
A total of 85 projects were registered for the competition by organizations and microenterprises of rural women involved in agricultural and craft production. The ten best entries were selected for presentation in Bogota by their promoters, where the two winning projects were chosen to represent Colombia in the regional competition to be held in La Paz, Bolivia, in the last week of November. Winners will receive between US$1,000 and US$4,000.
The winning organization in the category of craftswomen projects was the Sandoná Women's Crafts Cooperative from Nariño department, which is formed by rural women who hand weave craft products from iraca palma which makes them self-sustainable.
In the category of agricultural production projects, the prize went to Vamos Juntos Association from San Francisco de Ichó, Chocó department, formed by women from the Colombian Pacific coast who process sugarcane into honey.
The qualifying jury made up of representatives of the sponsoring agencies (CAF-IFAD), the national government, and a delegate from a rural women's organization, based their selection on development of the business and building financial, social and human capital.
The prizes recognize the best efforts of rural women who are fighting poverty, taking into consideration market access, use of communication technology, and mobilization of relevant actors in their support.