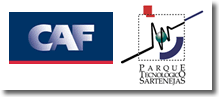 Sartenejas Technology Park presents its new incubation model
(Caracas, October 26, 2007).- A new incubation model was presented on October 24 to representatives of institutions in the public, private and academic sectors that support entrepreneurs, in the headquarters of the Andean Development Corporation (CAF).
The opening remarks were given by Gabriel Duque, CAF competitiveness specialist; María Luisa Parra, principal administrator of the Ideas Foundation; and Gregorio Paluszny, president of the Sartenejas-PTS Technology Park. They all expressed satisfaction and support for the new project.
Jessica Quintero, manager of PTS and moderator of the event, explained the advantages and innovations of this new tool, developed and adapted to the situation in the country by the Park's team of specialists. The project will increase the efficiency of the process of identifying business opportunities and incubation of companies, improve access to financing mechanisms, and contribute to setting up work networks with institutions that promote business development in Venezuela.
"With the start of our new incubation model, we will consolidate innovative ideas, management of business opportunities and assure the success of each of our allies," Quintero said.
The new project is part of the technical cooperation agreement signed in 2005 with the Ideas Foundation for the project Support System for Creation of Companies in Venezuela - Improvement of the Business Incubation Process executed with the Sartenejas Technology Park.
Other participants in the event were Andrés Oneto, executive from the CAF Office of Public Policy and Competitiveness; Néstor Utrera from the incubator company Technoclinical Solutions; and Germán Ríos, deputy director of the CAF Office of Public Policy and Competitiveness, who closed the event thanking all for their participation and interest in this new project.