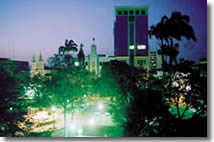 Signing confirms commitment to the city of Portoviejo
October 17, 2007
In the presence of the Ecuadorian president, various agreements were signed for execution of the Potable Water Master Plan for the city of Portoviejo, financed by the Andean Development Corporation.
The project will improve conditions of coverage, quality and efficiency of the provision of potable water.
(Quito, October 17, 2007).- In the presence of Ecuadorian President Rafael Correa, various agreements were signed to execute the Potable Water Master Plan. The total cost of the project is US$35.7 million, of which US$25 million will be financed by CAF and the remainder by the national government. The executing agency is Empresa Municipal de Agua Potable y Alcantarillado (EMAPAP).
CAF representative in Ecuador Luis Paláu-Rivas said that the project would increase and guarantee coverage of the service in the city and improve the quality of life and health conditions of its 260,000 inhabitants. It will also create institutional mechanisms to guarantee adequate operation and maintenance of the infrastructure, and efficient management of the potable water and basic sanitation services.
One of the chronic problems faced by Portoviejo is deficient provision of the basic services of potable water and sanitation. The Potable Water Master Plan will promote the ordered growth of the city, development of the decentralization and modernization process of basic services, and help create favorable conditions for private investment in projects in the commerce, industry, tourism, manufacturing and agroindustry sectors.