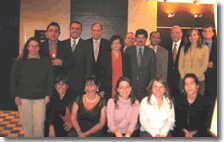 (Bogota, October 19, 2007). With the workshop,Management of Strategic Relations with the Public Sector, theTools for Governance and Consensus Buildingprogram organized by the Andean Development Corporation through the Governance and Technical Cooperation Office ended today.
The program, which was organized into four workshops, delivered tools to strengthen the skills of the participants in areas such as leadership, communication and negotiation, among others, in an effort to promote consensus building and democratic governance in the region.
During the closure, CAF representative in Colombia Freddy Rojas Parra emphasized the active anticipation and interest of the attendees, and the objectives that CAF pursues to promote governance and strengthen democracy in the region.
The Program consisted of four workshops on Negotiation, Leadership and Persuasion, Strategic Communication and Management of Strategic Relations with the Public Sector.
The workshops were given by experts from Cambridge International Consulting, an international organization providing consulting, advisory services and training in negotiation, strategic communication and leadership. The firm is formed by a group of international consultants trained at the Harvard University and linked to its Negotiation Project.