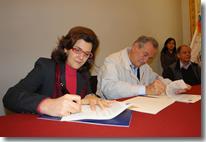 Support for decentralization in Peru
October 02, 2007
The aim is to strengthen initiatives to develop infrastructure and essential services which promote the sustainability of the region.
(Trujillo, October 2, 2007).- The representative of the Andean Development Corporation in Peru, Eleonora Silva Pardo, and the regional president of La Libertad, José Murgia Zannier, today signed a memorandum of understanding with the objective of contributing to the decentralization process, as well as supporting initiatives to develop infrastructure and essential public services which foster economic, social and environmentally sustainable activities in the region.
Silva Pardo said that the signing of the memorandum would "lay the basis for a future cooperation agreement between the parties" to explore the possibility of providing financial support for investment projects in infrastructure works which the regional government submits to the multilateral organization.
He added that the initiative would contribute to preparation of development plans and investment projects in the framework of the priorities and legal procedures in effect for execution of works with public funds, and improve the use of the funds allocated to region.
"With the signing of this document we also aim to strengthen the institutional, management and human resource capacities of the regional government through interventions specifically designed for these purposes."
La Libertad President José Murgia Zannier thanked the multilateral corporation for selecting La Libertad as the first region for signing a memorandum of understanding as a concrete example of its support for the decentralization process.
The regional president said, "We would like to express our satisfaction with the signing of this document which opens the way for determining which projects can be identified with greater precision, and implementing them in line with our development plans and strategic guidelines."
The CAF representative had already made a working visit to the Chavimochic project and agroindustrial companies in the area, accompanied by Zannier with officials from the multilateral organization and the regional government. He also held a private meeting with Trujillo Mayor César Acuña Peralta and local authorities.