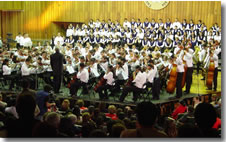 Uniting Voices for Colombia
October 19, 2007
The CAF Social Action for Music Program organized two concerts during the 26th Bogota Choir Festival.
(Bogota, October 19, 2007).- A total of 450 boys, girls and young musicians of United Voices for Colombia and the Colombian Youth Symphony Orchestra, which are part of the Social Action for Music Program sponsored by the Andean Development Corporation, will participate in the 26th Bogota Choir Festival organized by the Colombian Choral Corporation.
The young people will perform two concerts: the first in homage to maestro Alberto Grau to be held on Friday October 26 at 8:00pm in the Center of Events and Conventions Downtown Majestic in Bogota. The second function, which will close the festival, will be held on Saturday October 27 at 2:00 pm in the Zipaquirá Salt Cathedral.
The CAF Social Action for Music Program currently benefits over 30,000 children and young people from the Andean region, who form a music training network promoted by this institution since 2000, which offers choral, orchestral and string instruments experience in traveling conservatories.
"The main purpose of the CAF Program is to strengthen human values and create spaces for social and regional integration, using music as vehicle for recognition, social rescue and respect for civil, social and spiritual rights," said Ana Mercedes Botero, head of the CAF External Relations Office.
The Colombian institutions that cooperate with this CAF Program include the Choral and Orchestral Corporation, Juan N. Corpas University Foundation, Fe y Alegría colleges, District Institute for Protection of Children and Youth (IDIPRON), National Batuta Foundation, Tolima Conservatory, Batuta Meta Corporation, and Unimúsica Foundation, among others.
Maestro Alberto Grau Dolcet is a distinguished composer who has forged a place of honor among Venezuela's best contemporary musicians. Founder and president of the Caracas Schola Cantorum choir, he has been awarded many national and international prizes for his work as composer and choir director. His activity has extended in Colombia to over 450 young people - mostly from low-income sectors - from the Fe y Alegría colleges, girls of the work of Padre Javier de Nicoló, Medellín Orchestra Network, and the Batuta Foundation, among others.