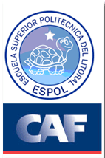 Ecuador: Leadership for Transformation Program concludes
November 19, 2007
CAF and the Higher Polytechnic School of the Litoral (ESPOL) successfully conclude the Leadership for the Transformation Program 2007.
(Guayaquil, November 19, 2007).- The closing ceremony of theLeadership for Transformation 2007program led by CAF and ESPOL was held in the city of Guayaquil. Present at the event were Gloria Betancourt, CAF governance and technical cooperation executive; Armando Altamirano, acting rector of ESPOL; Omar Rincón, coordinator of the CAF Leadership for the Transformation in Colombia. The special guest was Olympic walk medalist Jefferson Pérez who gave a talk on leadership.
TheLeadership for Transformation 2007program originated as a CAF initiative in Colombia in 2002 and was later continued in Bolivia, Peru, Venezuela and Ecuador. The program identifies potential leaders in the region and prepares them for a new style of leadership, enriching their system of values and equipping them with tools so that they can assume responsibilities of future leadership with an ethical and deep civic and democratic sense.
CAF executive Gloria Betancourt said that the strategic value of the program lay in the importance of training as a form of dissemination which all should support in order to strengthen democratic governance, and improve the situation of citizens and their environment. In Ecuador about 550 natural leaders have been trained in the cities of Guayaquil, Cuenca, Manta and Puyo.
The main objectives of the program are to identify, select and train natural leaders to generate a transforming leadership with capacity to manage tools and the technical capacity to identify the needs of the community and formulate actions that contribute to the best exercise of their citizenship. The Leadership for the Transformation 2007 program responds to one of the lines of action that CAF is executing in the area of governance. By the end of 2007, 7,216 leaders will have been trained in the five countries.