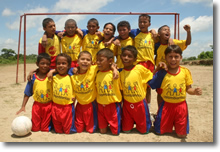 First National CAF-Colombianito Football Tournament kicks off
November 27, 2007
Recognized figures from national football will attend the opening of this sports meeting to be held in Puerto Tejada municipality (Cauca).
(Bogota, November 27, 2007).- Over 200 boys and girls from all income sectors of Bogotá, Cartagena, Sincelejo, Puerto Tejada (Cauca), Medellín and Barbosa (Antioquia) will participate and compete for the "Colombianitos 2007" team.
The tournament - to be held December 1 and 2 - is part of the activities of the Goals for a better life program of the Colombianitos Foundation which promotes education and formation of values in 3,000 children through the practice of football in Colombia's neediest communities.
The Andean Development Corporation, through its Sports Training Social Responsibility Program, is the Foundation's main ally in its program which has strengthened its sports areas and responds to the psychosocial needs of children and young people in the vulnerable communities reached.
Through the Sports Training Program, which has been in operation in the Andean region for three years, CAF channels and develops the potential of sport for prevention and social rescue by providing training for children and young people, trainers and local referees. So far, over 10,000 children and young people have benefited in sports projects in Bolivia, Colombia, Ecuador, Peru, Uruguay and Venezuela.
Ana Mercedes Botero, head of the CAF Office of External Relations, said: "The main purpose of the CAF Sports Training Program is to strengthen civic culture and foster values of solidarity and discipline, responsibility and respect, and ethical-sports criteria transferable to the social level. Football is an important ally in the search for solutions and alternatives of social intervention with young people because it facilitates spaces for meeting and strengthens the identity of children and young people."
The tournament will open on Saturday December 1 at 9 am in the Villa Olympic of Puerto Tejada with the presence of important figures for national football.
During the tournament, the Colombianitos Foundation will launch the seventh event of the Goals for a better life program. Over 500 girls and boys from different sectors of Puerto Tejada municipality - including Betania, Altos de Paris, Palenque, La Cabaña, and Carlos Alberto - will benefit from this project.
Other organizations such as Colombiana Kimberly Colpapel, Confacauca, Colombina, Postobon, Delta Airlines, Avianca, FIFA, Pizza Pizza and the Puerto Tejada town council support this initiative.