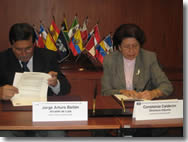 Loja to have Management and Sustainable Development Plan
November 27, 2007
CAF signs technical cooperation agreement with Loja municipality in Ecuador to implement a Management and Sustainable Development Plan for the city center.
A population of 140,000 inhabitants will benefit
(Quito, November 27, 2007).- Constanza Calderón, joint director of the Andean Development Corporation, and Loja Mayor Jorge Arturo Bailón signed a technical cooperation agreement to hire a consulting firm to prepare the Management and Sustainable Development Plan for the built-up area of the city of Loja.
The purpose of the technical cooperation agreement is to hire a consulting firm to prepare the studies and final designs of projects to improve potable water services and sewage/stormwater systems, among others.
Calderón said that implementation of the plan would improve the living conditions of about 140,000 inhabitants. It would give the city a structural plan to respond to the projected demand for potable water, and improve management of the sewage/stormwater systems, power and communication networks, and sewage treatment.
The contracting and supervision of the studies will be the responsibility of the Loja Municipal Unit for Potable Water and Sewerage (UMAPAL) while CAF will monitor the consulting process.