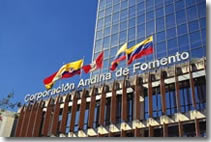 Strengthening MSMEs as a way of reducing poverty.
November 12, 2007
Strengthening guarantee systems is part of the CAF strategy to facilitate access by SMEs to financing.
Mauricio Yépez, CAF vice president of financial systems, will participate in the XII Ibero-American Forum on Guarantees for Micro and SMEs in Chile.
(Special, November 12, 2007). The Andean Development Corporation has defined support for micro-, small- and medium-sized enterprises (MSMEs), as one of its lines of action for poverty reduction. In this respect, the strengthening of national guarantee systems has been identified as an efficient mechanism for facilitating access to financing by this economic sector. As a result, the Corporation is working on various financing operations through existing guarantees systems in the region and is supporting their creation in countries where they do not exist.
Supporting and strengthening MSMEs, which are an important productive sector, is a fundamental challenge for the Corporation's action plan. In addition to operations with microfinance institutions, CAF is developing innovative mechanisms to finance SMEs and has a US$10-million refinancing operation with the Colombian National Guarantee Fund, and is in process of analyzing and structuring similar operations in other countries of the region.
CAF participation in the Forum on Guarantee for MSMEs
CAF Vice President of Financial Systems Mauricio Yépez will participate in the XII Ibero-American Forum on Guarantees for Micro and SMEs from November 12 to 14, 2007 in Santiago Chile. In his presentation, he will make a precise analysis of the regional financial situation and present the actions taken by CAF to support the MSME sector, emphasizing operations to finance and strengthen the national guarantee systems in the region.
The XII Ibero-American Forum on Guarantees for Micro and SMEs has been organized by the SELA Permanent Secretariat, through the Management Unit of the Iberpyme Program, jointly with the Latin American Association of Financial Institutions for Development (ALIDE), Iberaval, SGR Reciprocal Guarantee Society of Castile and Leon of Spain, as institutional sponsors of the Ibero-American Guarantee Network (REGAR) and the Chilean State Guarantee Fund for Small Enterprises (Fogape), which acts as equivalent.
The topics to be discussed at the meeting are: the new guarantee systems developing in Ibero-America, presenting the advances, experiences and innovations of the guarantees systems, the state of Regional Refinancing Funds, international complementary bond projects, new financial products associated with guarantees, sectoral guarantee programs; in short, the continuing evolution of guarantees systems in the region. The Forum will also discuss the creation of a Latin American Association of Guarantee Systems (ALIGA).