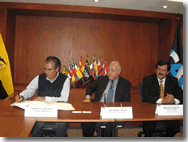 Support for growth of Ecuadorian automotive industry
November 23, 2007
The project will strengthen the Ecuadorian automotive sector in terms of quality, technology, service and price.
Direct sources of employment will be generated.
Positive impact on levels of competitiveness in the sector.
(Quito, November 23, 2007).- CAF and the Ecuadorian Automotive Industry Chamber signed a non-reimbursable technical cooperation agreement to implement a Management Model For Competitiveness in the automotive sector. Present at the event were CAF representative in Ecuador Luis Paláu-Rivas, Automotive Industry Chamber President Marcelo Flores, CAF executive Jairo Tiusaba, and Metraltonic manager Guillermo Landázuri representing the companies participating in the project. The Management Model for Competitiveness is promoted by General Motors Omnibus BB, recognized multinational company, with the aim of enabling suppliers involved in the project to join the world panel of parent companies of the industry becoming more competitive in terms of quality, technology, service and price. CAF representative in Ecuador Luis Paláu-Rivas said that CAF support was fundamental because it would help the automotive sector in Ecuador and in the region to achieve world-class levels of performance. Implementation of the project is also expected to generate more sources of employment and higher quality products and services. The model will be implemented by 11 supplier companies to the auto industry from various sectors (tires, exhaust systems, electrical systems, among others) located in the cities of Quito, Guayaquil and Cuenca. Currently six of these supplier companies are exporting part of their production to Colombia and Venezuela. After implementation of the Management Model for Competitiveness, they will be able to market their products in any part of the world thanks to their increased level of competitiveness. The project, which was designed to be developed over a period of three years, is part of the CAF Competitiveness Support Program (PAC) created by CAF in 1999 to favor a series of initiatives to improve regional competitiveness.