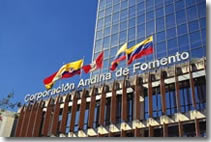 US$200,000 in donations for Mexico and Dominican Republic
November 07, 2007
CAF President sent a letter of solidarity to the presidents of Mexico and the Dominican Republic.
Each country will receive US$100,000 to mitigate the devastating effects of the natural disasters which are affecting both nations.
(Caracas, November 7, 2007). CAF President & CEO Enrique García approved a US$100,000 donation for the Mexican government and a similar sum for the government of the Dominican Republic with the purpose mitigating the effects of torrential rains and tropical storm "Noel," respectively, on these partner countries of the Corporation.
Enrique García said, "I wish to express, through their presidents, to the peoples of Mexico and Dominican Republic, our most sincere solidarity with the victims and those affected by the consequences of the natural disasters." The CAF president said that "at dramatic times like this it is fundamental to support the government's efforts to respond to this difficult situation." As a result, CAF has acted quickly to deliver immediate assistance.
Lastly, he expressed the desire that emergency situation be solved as quickly as possible, and that the required humanitarian assistance arrive in the affected areas.